Gilgandra Pharmacy
---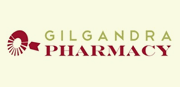 49 Miller Street
Gilgandra 2827
Opening Hours
Mo-Fr: 9:00am-5:30pm
Sa: 9:00am-12:00pm
Su: Closed
Your local place for everything health related, the Gilgandra Pharmacy provides a great range of professional services.
Whether you have a medical script to fill, or are simply feeling a bit under the weather, our friendly team of pharmacists and assistants can help you with advice, supplements, over-the-counter remedies and prescription medications.
The Gilgandra Pharmacy team can also assist with:
Home or in-pharmacy medication reviews
Weight management advice
Stop smoking programs
Blood pressure monitoring
Health clinics for asthma management, heart health and skin cancer screening
Returning your unwanted or out-of-date medicines
Gifts, perfumes and ear piercing
Secure and convenient, why not drop into the Gilgandra Pharmacy for some friendly advice and expert help?