Western Farm Marchinery
---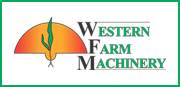 196 Warren Road
Gilgandra 2827
Is your tractor, lawn mower or agricultural equipment getting old and feeling sluggish?
The team at Western Farm Machinery specialise in providing a great range of high-quality agricultural machinery and equipment, including:
Tractors and implements
Hay and harvesting machinery
Grain handling
Tillage and seeding
Loaders
Spray equipment
General equipment
New and used machinery
Spare parts and servicing
We understand that agriculture can be difficult and how much of a difference modern technology can make, which is why we've established a one-stop shop for all your agricultural needs.
Whatever you need help with, visit our website, give us a call or come into Western Farm Machinery today!