Silo Bag Grain
---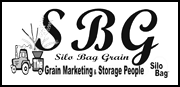 8-10 Naden Drive
Gilgandra 2827
The Grain Marketing & Storage People
Want to add value to your product? Searching for a method to increase the efficiency of your supply chain? Silo Bag Grain is a company that has a reputation for excellence, and with our experience in agribusiness, we can make your job much easier. Our integration of storage and marketing brings opportunities to your business. From supply of silo bags and machinery for inloading and outloading, to marketing of grain within Australia and internationally, everything we do is aimed at getting the best outcome for our customers.
Here When You Need Us
A dedicated team, the Silo Bag Grain staff are accountable to our clients. Each department is ready to make time for clients, and you will find them readily available to discuss your particular needs. No flashy techniques here; just agribusiness specialists who know the land and know your business.
Find Out More
Our website has detailed information about our innovative products and methods; or if you prefer, contact us to chat through what we offer.
IpesaSilo bags - speed up harvest, easy sampling of stored grains, reduced marketing costs
Self Propelled Machinery - Easily maneuverable, user-friendly hydrolics, reduce clean-up time
Benefits of Akron EXG300
Marketing Advantages to Buyers and Growers
Come In Today And See Our Systems Of Innovation For Grain Storage & Grain Handling