Lamb's Carpet Cleaning and Pest Control
---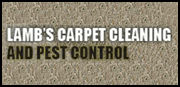 Who Needs Mess? Who Needs Pests? Lamb's Brings Transformation
"A great professional job with amazing results... Great customer service; very prompt and reasonably priced. Would highly recommend." - Bobbie
Want Your Carpets To Look Like New?
You will simply not believe the difference Lamb's Carpet Cleaning can make. See for yourself! From enormous water damage to destruction caused by pets, you may be thinking your carpet needs replacing. For a fraction of the cost, you can have your carpets professionally cleaned, giving new life to your property. Kill germs, bacteria and dust mites. Carpet manufacturers recommend steam extraction, and we can testify that some other cleaning processes offered by other companies just don't get the whole job done. Our clients love the difference we offer, after being disappointed with the surface buffing of dry chemical cleaning. Let us extract all of the dirt and debris, and be amazed by the look of your space. Visit us on Facebook to see the latest transformation photos from delighted customers!
Carpets
Upholstery
Rugs
Furniture Moving - Let Us Do The Heavy Lifting Before and After the Clean!
"Did a great, professional job of cleaning our carpets. Very prompt, helpful and reasonably priced. Happy to deal with these guys!" - Penny
Don't Put Up With Pests
Whether you are facing a deadly enemy or just can't stand the creepy crawlies, you can get rid of them! Chat with our team and find out how we can safely remove the pests from your property. Be safe from dangerous White Tails, Red-backs and Funnel-Webs, and avoid the toxicity of the Common Black House Spider. Dislike the mouse droppings in your pantry? Hearing the scuttling feet of rats in your walls? No matter the pests you are facing, or the ones that are hiding away, our service will eradicate the issue.
Call Today! Lamb's Carpet Cleaning and Pest Control; A Local Family-Owned Business