Johnson's Gourmet Butchery
---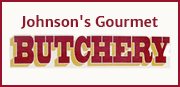 66 Warren Road
Gilgandra 2827
Opening Hours
Mo-Fr: 7:00am-5:00pm
Sa: 7:00am-12:00pm
Su: Closed
Welcome to Johnson's Gourmet Butchery, your local meat expert!
If you love your steaks, sausages and chops, we have a great range of carefully sourced and expertly prepared meats for your freezer and dinner table.
Why not try our award winning lamb, spinach and cheese sausages, our in-house cured bacon or surprise the family with our range of filo pastry meals, marinated chicken skewers and locally grown hams.
Our expert team of butchers can bone, slice and prepare your meat for you, making it easier to cook and serve when you get home.
Pre-order your meats for a special occasion or gathering, or simply drop by and pick up what you need for the week.
We invite you to taste the difference Johnson's Gourmet Butchery!