Gil News and Gifts
---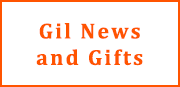 18 Miller Street
Gilgandra 2827
Read all about it at Gilgandra News and Gifts!
Your local newsagent for everything current and up to date, Gilgandra News and Gifts stocks a range of specialist magazines catering to every interest and hobby.
Get your local, state and national newspapers here, as well as international news by pre-order.
The friendly team at Gilgandra News and Gifts can also help you with a range of beautiful gifts for that special someone, to treat yourself or for a special occasion.
For a birthday, anniversary or work event, ask us to help you find something based on the interests of the person you're buying for, or simply browse our great selection.
For more information, or to get up to date with the latest, drop into Gilgandra News and Gifts today!