Foster W Smash Repairs
---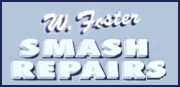 83 Warren Road
Gilgandra 2827
Had a bingle and don't know what to do?
Give the friendly team at WJ Foster Smash Repairs in Gilgandra a call!
Our expert smash repair team is backed by years of experience and can help you with your family car, truck, motorbike, farm machinery or truck repairs, including:
General touch ups
Spray painting
Major panel beating
General smash repairs
Wheel repairs and replacements
Genuine and used parts
Complete auto restoration
Have the damage repaired and a good-as-new vehicle with our comprehensive and affordable smash repair services.
For more information, or to book an appointment, give the friendly team at Foster W Smash Repairs a call today!