Diggs Butchery
---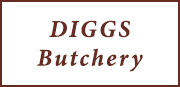 19 Miller Street
Gilgandra 2827
Welcome to Diggs Butchery!
Conveniently located on Warren Road, Gilgandra, Diggs Butchery has a range of locally sourced and carefully prepared meats and meals to help you feed a few or a whole party.
Our expert team of butchers can help you with a range of gourmet sausages, lamb chops, pork or beef steaks and marinated chicken skewers.
Or maybe you're looking to cook up a roast chook, side of beef or pork with amazing crackling?
We also stock a range of popular filo pastry ready to cook dinner delights, perfect for the dinner table and ready to go for tonight.
Whatever you and the family are craving, Diggs Butchery have the meats and meals prepped for your freezer or dinner table.
Why not drop by Diggs Butchery today!