Cafe 41
---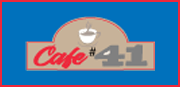 41 Miller Street
Gilgandra 2827
Opening Hours
Mo-Sa: 5:30am-2:00pm
Su: 7:00am-2:00pm
Welcome to Café 41, Gilgandra!
Conveniently located on Castlereagh Highway, Café 41is your local stop for a great range of meals, cakes and snacks, whether you're a long time member of the community or just passing through town.
Enjoy a range of daily made, home-cooked food with a range of dietary options, including:
Filling breakfasts and morning smoothies
Fish, scallops, hamburgers, potato cakes, chips with gravy
Pies, pasties and sausage rolls
Fresh sandwiches, quiches, lasagne
Crisp salads with home-made dressing
Hot and cold drinks
Enjoy the great atmosphere of our courtyard or pop in and take away your fish and chips, sandwiches and cakes.
We welcome you to drop by Café 41 today!