Armatree Hotel
---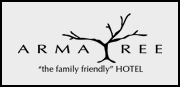 Merrigal Street
Armatree 2828
After a cold and a great meal in Armatree?
Drop into the Armatree Hotel to discover a great range of drinks and counter meals, eight newly renovated hotel rooms, plus a beautiful grassed area for camping, with access to bathroom and shower facilities.
Delicious meals are on offer at the Armatree Hotel, prepared by our expert hospitality team, and we can also cater for a range of functions, including:
Corporate events
Social events
Birthdays (we also provide jumping castles!)
Engagement parties
Wedding celebrations and reception
If you're passing through, or you want to stay a while, come to the Armatree Hotel for a great meal and some comfortable and cosy accommodation!
"Well worth turning off the highway to visit. In my view one of the best country pubs in Australia. Great publicans, an oasis in the middle of the Central West, cold beer and friendly locals". Colin